A Contemporary Meets Classic Bedroom
with Claire Kennedy
From the dark wood furniture to the soft baby blue and terracotta colour palette, Claire from @ck_homestyle created a true masterpiece when she visited our studio to design her very own bedroom set as part of our SS22 Creator Day. Read on to learn how Claire's beautiful bedroom took shape…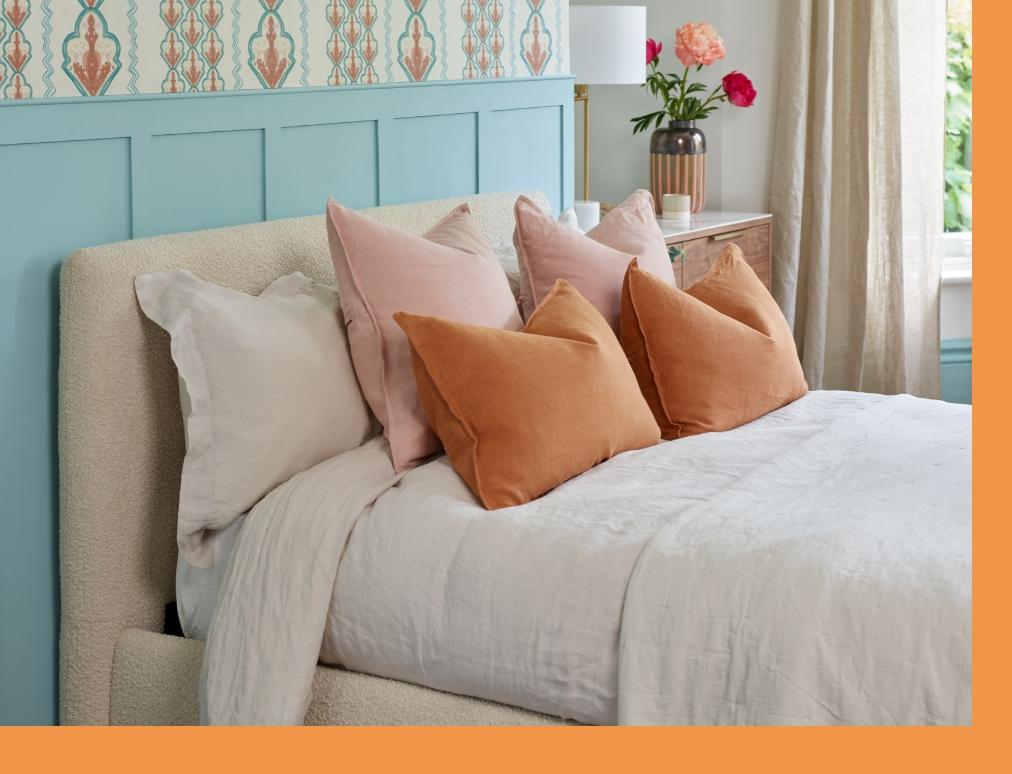 Start with colour combinations
The inspiration for this bedroom makeover initially came from the blue Dulux paint. Blue is such a beautiful colour and has a real soothing and calming energy to it. For me, this is perfect for a bedroom, so I incorporated it into the panelling behind the bed and on the skirting boards. I then picked a complementary second colour which was pink. Pink doesn't have to be associated with being girly, and this dusky pink was the ideal match for the blue. In dwell's collection, there were so many beautiful darker pieces of wooden furniture, which were exactly what I was looking for to accompany the paint colours.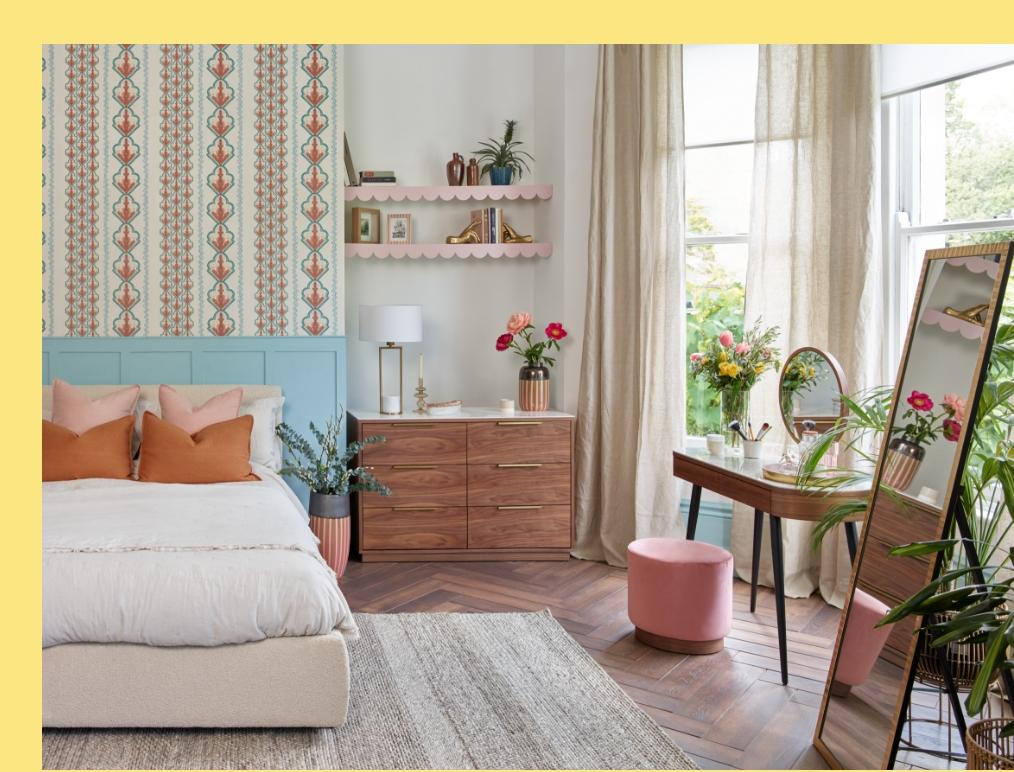 Think about key furniture pieces
To take the bedroom to the next level, I used some standout pieces of furniture including the beautiful Dormire Double Ottoman Bed. The bouclé fabric of the bed adds lovely texture to the room which was part of my overall scheme - to combine different textures in the form of furniture and accessories - adding interest to the makeover.
Dark wood and blue are always a winning combination, so I chose the Molveno Bedroom Chest of Drawers, which is a combination of walnut, brass and marble, and the matching Domina Bedroom Dressing Table, to add a real cosy depth. To bring the scheme together, I used lots of greenery and neutral coloured fabrics in the form of linen curtains and a large rug. The Lineas Medium Rug from dwell was perfect for this, as it was soft in colour but had some darker detailing throughout which tied in beautifully with the walnut furniture pieces.
Add personal touches with accessories
Lastly, to add some fun to the room which I think is always important, scalloped shelves were made and positioned above the chest of drawers. We used MDF boards with a scallop edging and then painted these in dusky pink to complement the rest of the room. A set of shelves is a lovely way to add interest to any room as they can hold practical and homely items such as books, candles and frames, while still being a decorative stylish feature.
My top tips for styling shelves would be to include pieces in different heights and depths, so stacking books vertically and horizontally are fab for this, accompanied next to smaller trinkets, tilting objects to play with clean lines, and overlapping your photo frames. Variety and contrast is a great way to keep things interesting, so play around with texture again. For example, a wooden frame next to a concrete plant pot, or a rattan basket next to a ceramic vase. Mixing old and new is always a nice element to add, as is greenery, especially trailing plants as again it draws the eye in.